Skip to Content
Neck Pain Treatments in the DFW Metroplex
Neck pain can happen to anyone at any time. Many residents in the DFW Metroplex simply live with acute pain thinking it will go away after a day or two. Not seeing the specialists at Pain & Spine Physicians can allow their pain to become worse and grow into chronic pain. The sooner you schedule your appointment with us, the sooner we can diagnose the issue and begin to develop a personalized care plan to get you relief quickly. There could be many underlying issues to your neck pain, so it is recommended you schedule an appointment to see us at the first sign of pain in the neck. We can advise you which physical therapy to start with, help decide which medications will be most effective, offer injection therapy to quickly reduce pain and in a last case resort, refer you to trusted surgeons. You can set same day appointments based on our availability.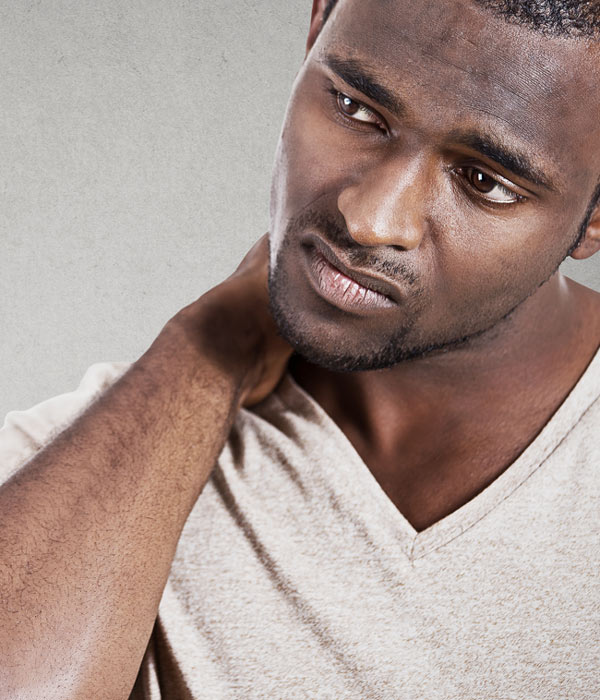 Causes for Neck Pain We See at Pain & Spine Physicians
Below are some of the ways our patients have injured themselves. If you have suffered similar incidents, you should visit our office or call to schedule an exam to help prevent your acute neck pain from becoming chronic:
Neck strain and injury
Accident-related pain from whiplash
Herniated disc or a pinched nerve
Muscular pain caused by an uncomfortable sleeping position
Strained muscles due to working long hours on a computer
Conditions such as fibromyalgia and spinal stenosis
Degenerative neck diseases such as cervical spondylosis or neck arthritis
Certain infections that may lead to lymph node swelling
Rare conditions like neck tuberculosis, infection of the spine bones, or meningitis
Acute and Chronic Neck Pains
Pain in the neck and other areas in the body often breaks down into two separates categories; acute or chronic. Acute neck pain happens suddenly and generally lasts only three months. While chronic neck pain lasts for much longer and occurs from severe damage to the facet joints and discs, muscles, or ligaments in the neck. These categories help us determine how to proceed with your personalized treatment plan and how we can get you feeling relief. We also take into consideration how you injured your neck.
Call Us Today to Get the Relief You Need
Whether you suffer from acute or chronic neck pain, you should schedule an appointment with the specialists at Pain & Spine Physicians. While it can go away on its own, it is best to visit our office to help rule out issues that could lead to chronic pain requiring more treatments and lasting effects. We have helped those in Flower Mound, Frisco, Southlake, Dallas, and McKinney regain strength in their neck and live pain-free.
Don't Live With Pain. Call Now for Relief!