Skip to Content
Transcranial Magnetic Stimulation (TMS)
Don't Live with Pain & Depression. Try TMS for Relief.
Transcranial Magnetic Stimulation (TMS) has proven to be an effective depression treatment for our patients in North Texas. The Pain & Spine Physicians offer a new completely non-invasive depression treatment process for those in the DFW Metroplex looking for help. We understand how difficult it can be to seek treatment of this nature, but we want to give you a better way of coping and finding assistance. We also don't want you to have to rely on potentially dangerous opioids to deal with the pains associated with clinical depression. If you are looking for a different way to cope as well, call us to schedule your initial consultation. Our team will help decide if Transcranial Magnetic Stimulation (TMS) is right for you.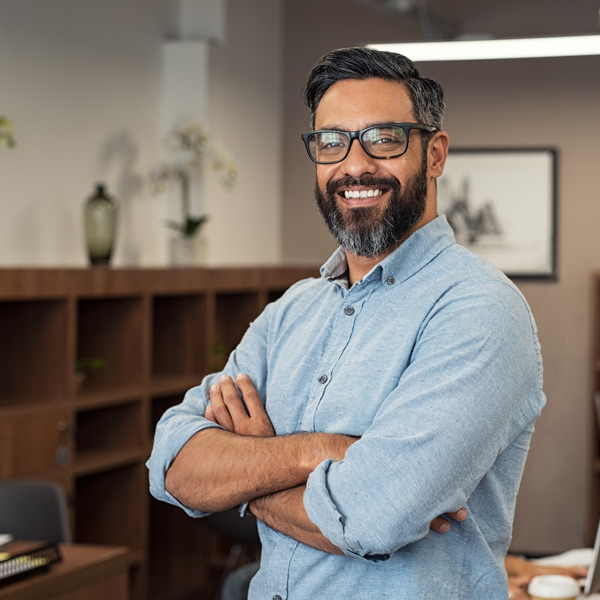 The Transcranial Magnetic Stimulation (TMS) Process
This non-invasive technique stimulates the brain through electromagnetic induction. The treatment is comfortably administered via an insulated coil over the scalp and targets an area of the brain thought to play a role in mood regulation. Magnetic pulses pass painlessly through the skull and into the brain. With the same strength as Magnetic Resonance Imagining (MRI), these gentle pulses pose no threat to you as a patient. When delivered in rapid succession, produce lasting beneficial changes in brain activity as well. Each session usually lasts about 60 minutes and is generally performed five days per week for six weeks. You will be seated in a comfortable chair and remain awake and alert. You will be given earplugs, and your provider will place a magnetic coil on your head. You may feel a tapping sensation on your head during treatment. After the procedure is finished, you resume your normal activities.
Benefits of Transcranial Magnetic Stimulation (TMS)
Our depression treatment using Transcranial Magnetic Stimulation (TMS) requires performing multiple sessions daily. All cases will be different depending on your symptoms and feelings. We work together to tackle this disease, and much will depend on your communication with our team. Since this process is non-invasive and doesn't require the use of drugs, you will be able to visit the office, receive your treatment, and go about your day as usual. You will remain awake throughout your time in the office. No need to schedule rides, and you can return to work right after we finish. We have found this method quite useful for residents all over North Texas to help with various symptoms of sadness and depression, and we are here for you. Please reach out to us today or visit one of our several locations staffed with experienced medical experts.
TMS Treatment for OCD
Living OCD presents challenges every day. Your brain is always moving in several different directions. You may not be thinking clearly or lacking focus. You may develop anxiety or depression, which can take a toll on your personal and professional life. Patients who suffer from OCD experience depressed mood, anhedonia, and recurrent intrusive obsessions and compulsions that significantly impair their quality of life. Medication treatments only work in little more than half of the total cases and are often associated with unwanted side effects.
TMS changes all of that with safe, comfortable, non-invasive treatments designed to help alleviate your OCD in genuine ways. Our program uses the advanced coil system to deliver targeted magnetic fields to the region of the brain that is associated with depression and OCD. In just 20-30 minutes per session, over 2-3 weeks, you can experience a mental calming that lets you live in the moment and improves your speech and mannerisms in dramatic new ways. All treatments are overseen by a team of certified TMS physicians and utilize the most advanced medical technology and methods for ideal results. You can feel great, not have to suffer any significant side effects from addictive medications, and alleviate your OCD symptoms for a more fulfilling life.
RTMS As Treatment
Repetitive Transcranial Magnetic Stimulation (rTMS) therapy penetrates only approximately one to one and one-half cm into the brain, around the region of the forehead. RTMS affects different areas of the brain than standard or Deep TMS, such as the areas responsible for executive and cognitive functions, abstract reasoning, working memory, and others. It also works on different electromagnetic field pulses, in a narrower area of the brain and positively changes the area that controls negative affectivity. RTMS can also be useful in the treatment of patients with various forms of depression. RTMS is considered safe and generally well-tolerated as an attractive substitute to anti-depressant medications and imposes no known side effects. It was cleared by the FDA in 2008 and is now widely utilized by hospitals and clinics across the nation.
Call Pain & Spine Physicians Today for Help
If drugs and other depression treatments haven't helped you feel better day-to-day, TMS may be for you. TMS, however, is not an appropriate treatment for everyone. There are extensive evaluations and depression tests necessary before scheduling your first treatment, and you must be examined by one of our certified TMS psychiatrists to qualify. We have found great success from Flower Mound, Frisco, Southlake, Dallas, Richardson, San Antonio, and McKinney. Having five locations around North Texas means there is a place close for you to seek assistance when dealing with this debilitating disease. If you think we can help you with your depression, please call Pain & Spine Physicians today to schedule your appointment and see if TMS is safe and appropriate for you.
Don't Live With Pain. Call Now for Relief!